Our Techniques & Services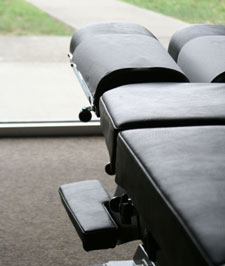 Your care is customized to suit your individual needs. We offer a wide variety of treatment options to suit your needs and comfort level. Before beginning any care, we will explain to you what we are going to do and why. We work together in your care, and we are here to help guide you through your wellness journey.
Chiropractic Techniques with Dr. Stacey Rosenberg
Dr. Stacey provides the following chiropractic techniques and supportive services based on clinical need and your personal preference:
Total Body Care at Our Wellness Centre, with Gibsons Wellness Practitioners
Dr. Stacey reopened her Gibsons chiropractic practice as a multi-disciplinary practice, Gibsons Chiropractic Health Centre, in 2006. She chose to diversify her patients' care because she felt the variety of services allowed her to truly care for the whole body. "Chiropractic is not just about bones," Dr. Stacey says. "Total body care comes down to the nervous system. Chiropractic care relieves stress on the nervous system, but that isn't the only stressor. The system is affected by tension in the muscles and joints, by what you put in your body and your environment around you. Having a multi-disciplinary practices allows us to help you manage and relieve the chemical, physical and emotional stresses affecting your nervous system, and as such your life." In addition to receiving chiropractic care at our clinic, you can also receive total body wellness services from our experienced Gibsons Wellness Practitioners, including:
Learn all about our Wellness Centre services by visiting our Meet Our Gibsons Wellness Practitioners page.
New to Chiropractic?
Dr. Stacey loves introducing new patients to chiropractic care. Gibsons Chiropractic Health Centre values patient education and Dr. Stacey wants you to be totally comfortable in your knowledge of chiropractic and how it may help you. On your first visit, Dr. Stacey makes a point to discuss any concerns you may have or any "horror stories" you heard. It's time to dispel chiropractic myths! She also primarily uses SOT and Activator®, so you will feel comfortable and relaxed. Dr. Stacey is here to listen to you and what you need. Come in today to start living a healthier, stress-free life.
**Please note that there are over 160 different "branded" chiropractic techniques and that results will vary from patient to patient.**
Give (604) 886-7080 a call today to schedule your first appointment!